Kayak Launch Location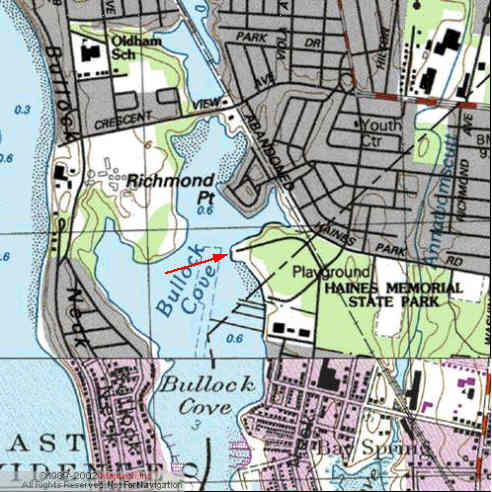 Directions
Haines Memorial Park: (State Park) From Providence North and West, Follow Rt 195 east to Rt 114 Exit 7, going south. Continue for 5 miles and bear right on to Rt 103 west. Continue past Shaw's Market. When road turns to the right, quickly stay left at the Dunkin Donuts and reverse directions to Rt 103 East. Within this 75 yard stretch bear left twice and quickly turn right on to Metropolitan Park Avenue. Follow Metropolitan Park Ave (Narragansett Ave) for about 1/4 mile past the Bike Path and turn right into the park entrance. The upper parking lot, to the right, has the boat ramp. Alternately people from East Providence may follow Rt 103 south on Pawtucket Ave to the park.
From Massachusetts, Cape Cod and East, follow Rt 195 west to Exit one in Seekonk, Mass. Turn left on to Rt 114a south, crossing Rt 6 and continuing on Rt 114a until you merge on to Rt 114 south. Continue on as above.
The new boat ramp is very steep. This is also a good place to park for access to the East Bay Bicycle Path. There is a park restroom that is open only during the summer daytime.